Today we would like to introduce you to our latest licensable HTML5 game, Algerian Solitaire.
This exotic card game takes us to the dreamlike setting of the Sahara desert. It will also help us as an excuse to cover the interesting topic of the theme in solitaire games.

KNOWING YOUR GAME'S AUDIENCE
As our previous Solitaire game, Refuge Solitaire, the game uses 2 decks, but the ruleset is quite different though. If you take a look at the rules compiled in Wikipedia, maybe you'll start realizing why this variation on the classic Solitaire game is also known as Algerian Patience.
Being considered one of the most difficult solitaires, its audience can be really passionate about it. In fact, we can say these players crave for playing this kind of challenging games. These are people with enough patience to play Algerian Solitaire for uncountable sessions. For them, completing a game can be an utterly rewarding experience.
ATMOSPHERE AND MENTAL STATE
One thing we are committed to when we develop these kind of games is the atmosphere. As we did in Refuge Solitaire, we seek to create a relaxing virtual environment. A warm and suggesting setting in tune with the pleasure of the perfect moment of loneliness. Our goal is to evoke a vivid and specific mental state.
Most solitaire games are quite plain and don't go beyond displaying a green cloth with the cards above. On the other hand, our take on Algerian Solitaire has a careful theme setting. The tuareg carpet and the personal belongings of the main character can be found around the board which helps building a solid mental image of the environment.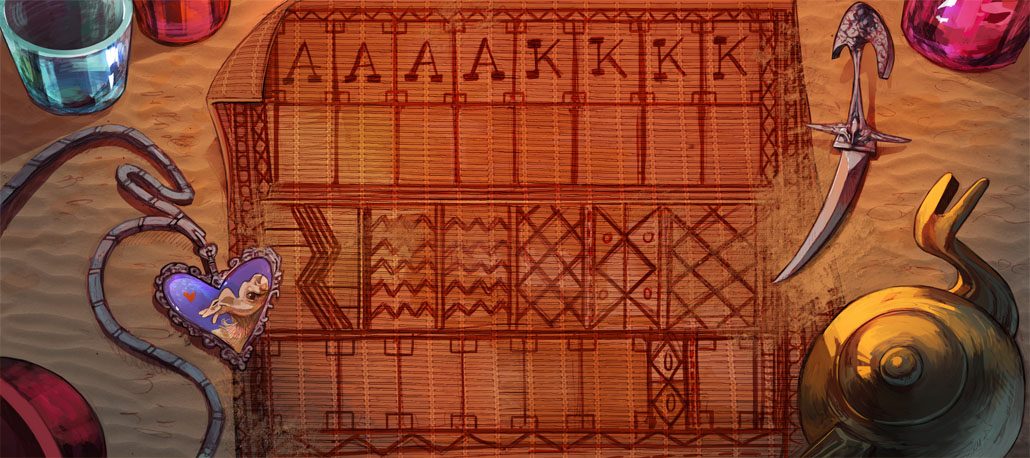 Another peculiarity about this game are the tuareg proverbs. A pearl of wisdom will be shared with the player before each game starts. Again, this is one of the features that helps reinforcing the atmosphere. All these things contribute creating a space where players can disconnect for a while from their everyday issues.
VISUAL STYLE: DREAMY EXAGGERATION
On the artistic side, we chose a really talented artist for this project. Aitor Prieto, whose portfolio you can visit here, is an unusual illustrator in the game business scenario. He has a strong and personal style that plays with the exaggeration of characters by the use of bizarre shapes.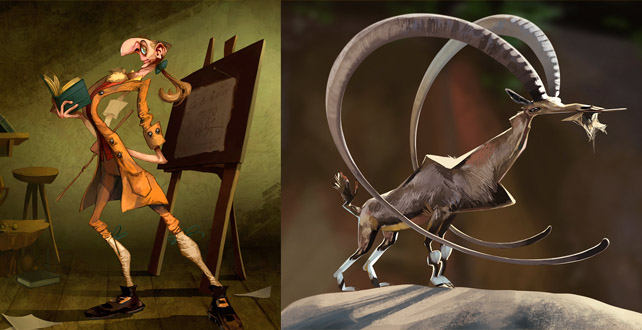 This kind of character design is something really striking that few studios dare incorporate in their games. Ubisoft Montpellier, the creators of the recent Rayman series, can be really proud about being one of these bold studios. In their case, they managed to create a spectacular game and a commercial success, which takes us to the point we want to make here.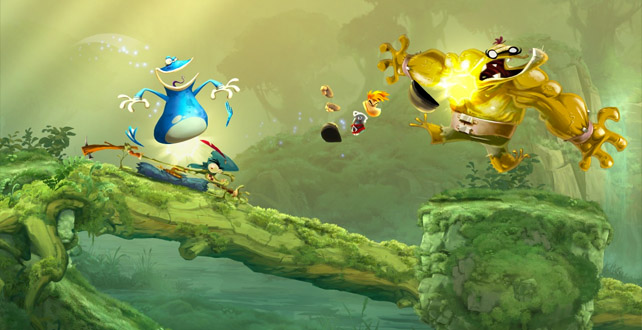 This visual style can be really tricky. This means more specialized artists and animators need to be involved in the project. Nevertheless we believe this is not the actual reason there's so few games out there using these visuals. Commerciality may the one to blame here instead.
We must recognize that when we saw an early sketch of the splash design, the first impression was a little bit "WTF!?", but just one second later we thought: "what the hell? why not?".
We are constantly watching games with similar visuals, so using a style more typical from print illustration can be a little bit of fresh air. Just consider the fact that there's a recurring style called "the Newgrounds style"! That speaks poorly about the visual richness in the browser games scenario. To a certain extent we can argue that players may be guilty of being too conservative. On the other side, the profit margin is so tight that studios and publishers just can't deal with the risk of creating and publishing some odd piece of game.
Going back to Algerian Solitaire, and despite being a totally different game than Rayman Origins and Legends, we have a common goal: creating a dreamy landscape. In our case, this is another aspect that works well with the theme of solitude and mental isolation. We also considered that the particularities of our audience and the humble size of the project were the perfect excuse to give it a try. And well… working with Aitor is also a pleasure for us.
We hope you have found interesting our insight about theme in solitaire games. We would also love to hear your thoughts about unusual visual styles. Take care!
https://www.ravalmatic.com/wp-content/uploads/2016/10/theme_algerian_solitaire.jpg
512
512
Javi Sanz
https://www.ravalmatic.com/wp-content/uploads/2016/08/ravalmatic_logo.png
Javi Sanz
2016-10-23 00:34:58
2019-12-13 12:56:25
Theme and atmosphere in Algerian Solitaire