This new entry makes more sense to be written in spanish, so here we go…
Conoce al hombre detrás del mito. ¡El genio de la evasión de capital! …mmm… no hablo de Pepiño, ni de Iñaki, ni de Fabra, ni de Griñán, ni de Oriol, ni de Millet, ni de Guerrero, ni de Sepúlveda, ni de Chaves, ni de Rato, ni de Correa, ni de Guerra, ni de Roldán, ni de Conde, ni de De La Rosa, ni de Botín ¡¡ni siquiera del Dioni!! Hablamos ahora de Bárcenas, y hablamos del saqueo masivo de un país tan grande y generoso que puede permitirse muchos de estos personajes. ¡Incluso diría que muchos más!
Estamos ante un panorama desolador, estamos viendo el impune desfile de: CHORIZOS DE ESPAÑA (y olé).



En próximos capítulos (actualizaciones) podrás meterte en la piel de otros presuntos mangutas, pero ahora es el momento de ayudar a Luis Bárcenas a trasladar su fortuna a las oficinas de Lombard-Odier en Ginebra, Suiza. No sabemos en qué planea gastarse todo ese dinero, si en crear un satélite artificial de confetti concentrado, o formar un ejército personal de clones de Cristiano Ronaldo. No nos incumbe. Allá cada cual con sus vicios, sólo importa que necesita nuestra ayuda y no se la podemos negar.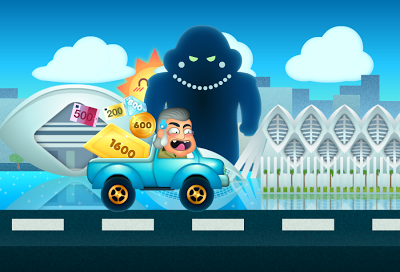 Recorre los paisajes de la azotada meseta española. Haz turismo por aeropuertos fantasma, obras faraónicas muertas de risa, hospitales masacrados y traslada toda tu fortuna sin perder ni un céntimo por el camino. Aquí no encontrarás enemigos que se interpongan, (alfombra roja para el emprendedor) sólo estáis tú, tu pastuqui, y tu pericia. Y qué mejor manera de realizar este maravilloso periplo que hacerlo a ritmo de pasodoble de organillo.
Siente el cierzo en las patillas, el olor de los billetes de 500, el ritmo pachanguero del Casiotone y embárcate en esta aventura fiscal. ¡Al fin, la corrupción está al alcance de pobres como nosotros!
…
Ayer, en pleno brote psicótico, los esforzados miembros de Ravalmatic subimos la primera versión de Chorizos de España a Google Play para poder ser descargado en móviles y tabletas Android. Próximamente se publicará también la versión iOS. ¡Os mantendremos informados!
https://www.ravalmatic.com/wp-content/uploads/2013/03/chorizos_espana.jpg
512
512
Javi Sanz
https://www.ravalmatic.com/wp-content/uploads/2016/08/ravalmatic_logo.png
Javi Sanz
2013-03-13 13:21:00
2016-10-10 18:16:41
Chorizos de España