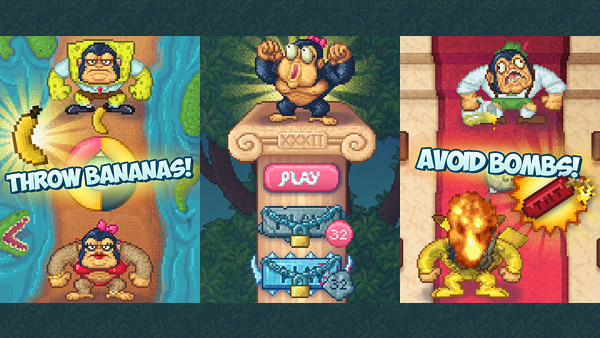 Our latest game is here. After the success of FootChinko any other studio would have done a sequel, but we decided to produce bananamania, surrealism in its pure state.
Hopefully players like it. We don't know if it's a good game, as players have to decide on that. But one thing is for sure: it's a game that goes round and round in circles.
Its peculiarities start at the preload scene, as it lacks of the typical preload bar or a number measuring the loaded percentage. Progress is just a collection of unconnected dots that grow to conform a big pixel banana.
It's original! We've taken the risk of not producing a match 3 or the clone of a successful mobile game, which is exactly what publishers love and finance.
Opposite to the html5 casual games currently published, it doesn't target a particular kind of player. Everyone who is bored of playing clones of clones is welcomed to bananamania.
Its title is too long. Many publishers misspell the name when answering our emails.
The home scene is too elaborated and detailed, sometimes we think that we've invested more time on that scene than in the whole game.
No tutorial.
It lacks a story and its setting is unrelated to the game play.
The score text, which on any other game would be just readable and noticeable, gains prominence and spins, hurting even the game play itself by doing that.
3 of its 6 levels are hidden to the player, he/she doesn't even know that they exist! and a semitransparent and disabled arrow button leads nowhere.
Its high graphic weight doesn't correspond to its simple game play. Graphic assets and game play are quite unbalanced. The simplicity of the game mechanic rests value to the amount of work put on the pixel art, visual and audio effects instead of praising them (as a couple of publishers think).
The basis of the game mechanic is breaking the player's flow continuously. Opposite of what game design books recommend, bananamania is ridiculously difficult and keeps on offering frustration without any rewards to the player (as real life sometimes).
The player can't control the game characters, which is uncommon, just throw them bananas.
The player encounters hazards without previous warning.
And last but not least, maybe just one person in the world will be able to finish the game. So much effort on a single player in the era of the online masses, doesn't make any sense from a materialistic point of view.
Too many contradictions in your head? Don't go bananas and play bananamania. Here is the link:
https://www.ravalmatic.com/wp-content/uploads/2016/09/512_bananamania.jpg
512
512
Javi Sanz
https://www.ravalmatic.com/wp-content/uploads/2016/08/ravalmatic_logo.png
Javi Sanz
2015-04-10 20:55:00
2016-10-10 21:37:32
bananamania - breaking the rules